ADAM is the University of Basel's learning platform. On ADAM, lecturers can distribute documents, as well as organize and supervise a course's learning stages online. There are numerous possibilities for interaction with and between students. In addition, everyone who uses ADAM can keep a personal portfolio on the desktop to reflect on their learning process, document selected results, and develop a skills profile.
ACCESS
The login page for ADAM is at: adam.unibas.ch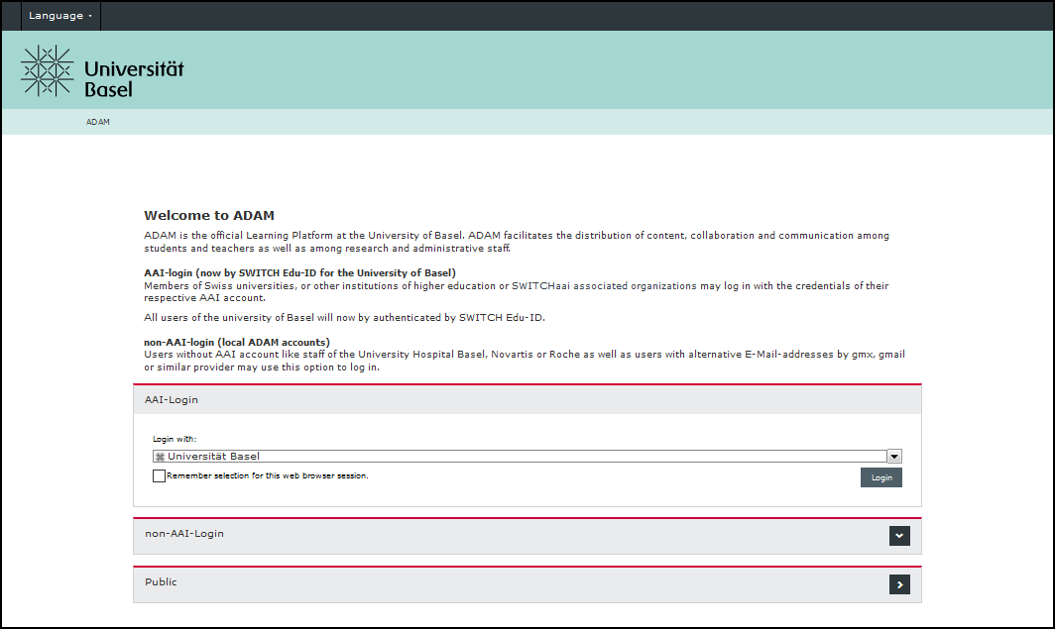 In the AAI-Login section, select the University of Basel in the drop-down menu and log in with your SWITCH edu-ID. This will take you to your personal workspaces and groups.
The Public section leads to general, unprotected content, including the Help menu, called the ADAM Guide.
ADAM FOR COURSES
For most courses, lecturers set up a "workspace" on ADAM. You will be invited to the workspace through your email address.
The following functions may be available on your course workspace if your lecturers have set them up:
Download teaching material and literature
Engage in discussions on blogs and forums
Participate in surveys
Complete exams given during the teaching period
Participate in practical work
Organize group work
Edit texts collaboratively and at the same time
Upload files with a size of up to 300 MB
Etc.
MORE INFORMATION
You can find more information about ADAM and its functions in the ADAM Guide here: adam.unibas.ch/help