USING WEBEX: BROWSER VERSION
User interface and functions
In a first step the user interface and the basic functions of Webex are explained.
On the left side of the Webex user interface you will find the main menu. The following explains where to find which functions: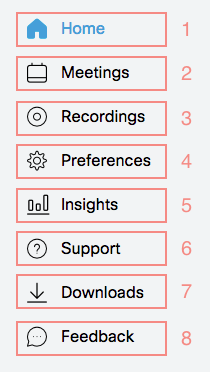 Home: Via Home you get to your personal space. In the overview you can see which meetings are pending. You can also use it to schedule a new meeting (see also 2.3 Schedule a meeting) or start a meeting.

Meetings: Under Meetings you can see all meetings. Decide for yourself whether you want to display past, future, own, public, all meetings or only those from a certain period.

Recordings: If you have recorded meetings in the past, you can find them under Recordings.

Preferences: Under Preferences, you can edit such things as language, time zone or preferences for appearance, audio and video.

Insights: Go to Insights to view information about meetings you've hosted.

Support: Go to Support to get support - directly from Webex.

Downloads: Under Downloads you have the possibility to download the different versions of Webex and extensions.

Feedback: If you want to give feedback (to Webex), you can do so here.
Copyright