RECORD AUDIO WITH VOICE RECORDING SOFTWARE
Tools
Which tools are needed if you want to provide sound recordings for your students?
Audio podcasts are currently on the rise because they are easy to handle in everyday life. If you want to create a pure audio recording, we recommend that you record it with your smartphone. Since different apps are available on Android devices than on iOS devices, the different applications are shown below.

Prepare the following tools:

Smartphone with sufficient storing capacity
App for the audio recording
Your personal AAI login for the learning platform ADAM and access to the corresponding workspace
---

Android
Different Android devices are sometimes delivered with different (or even none) pre-installed recording applications. We recommend you to use the app Audio Recorder by "Dmitri.Ponomarenko", because it is ad-free and open-source.
Install this app via the Play Store on your Android device. When you open the app, you will be asked if you want to grant the app access to the microphone and SD memory. Accept this to make sure you can record.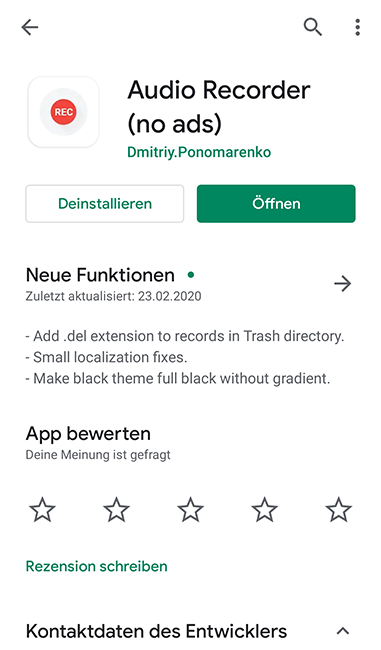 ---

Apple iOS
Your iPhone comes with a recording application (Voice Memos) as standard. You can use it to make your audio recordings.
Copyright